Many issues arise that are unique and exclusive to blended families. These distinctive challenges usually add extra stress to family relationships and often result in many different kinds of heartaches—outbursts of anger, resentment, jealousy, and parents charged with being unfair, too strict, or uncaring. 
What Are the Facts and Statistics about Blended Families?
1,300 stepfamilies are formed each day

500,000 adults become new stepparents each year

35 million parents are stepparents

18 million children live in stepfamilies

The number of households with stepchildren has doubled in the past 10 years (

U.S. Census Bureau)
The Bible provides principles on how to succeed in life and with your family, no matter how difficult your circumstances may be. I personally have been a part of two blended families. Because of cancer taking the lives of my father as well as my first wife, I have experienced what it's like to be in a blended family as a son and as a father. I also have discovered the difference that a personal relationship with Jesus Christ makes in these trying situations.
The first time I experienced life in a blended family was when my mother, my stepfather, my brother and I were not regularly attending church, and Christ was not in my heart. The second time I experienced a blended family was when, as a widower with two young sons, I remarried. At that time I had been a pastor for several years, and Jesus Christ was in my heart and leading my home. 
I am overjoyed to say, "You can restore love in your blended family." Whether your family has been through the trial of death or divorce, God is able to help you personally. He has given us His Word, His promises, and His Holy Spirit for us to experience a renewal of joy, peace, love, forgiveness, and yes, unity, in a blended home. 
In recent times much has been written about stepfamily myths. Many authors have identified the problems of blended families, but few have taken hold of solid biblical principles to help guide them to solutions that will sustain them in the hard days to come. Years ago, many of us enjoyed watching "The Brady Bunch" on television. If you're not sure what I'm talking about, check out some of the episodes on Netflix or www.youtube.com.
In 1969, Hollywood seemingly had created the most perfect "blended family" as well as a hit theme song. Every week, a different Brady family member faced the difficult situations that come with stepfamilies. But thankfully, in the last three minutes of each show, the problem was solved and everybody enjoyed one final group hug with Alice the housekeeper smiling close by. BUT, true life is not a scripted sitcom. High expectations of "One Big Happy Family" or "Love Me; Love My Kids" have led to some extreme disappointments. 
Is there any help for a family that has been torn apart? Is there any hope for a little peace and unity among stepparents and stepchildren? The answer is yes—help and hope are found in the Bible. The Word of God is filled with accounts of real people struggling with real problems who looked to a real God and received real answers. There's a lot of "real" in that last sentence. I don't know of any other way to adequately express how practical and helpful the Bible is for the blended family. Learning biblical principles will not change your family members, but doing so certainly can change you.
Once I understand that I am not responsible for everyone else's actions and reactions (including those of an ex-spouse), I can be free to live my life under the leadership and guidance of the Lord. Like a shepherd, He can lead us into green pastures and give rest to our souls, as we read in Psalm 23. The Great Shepherd of our family and our souls is the Lord Jesus Christ. God knows exactly what you need to love, forgive, care for, and support your family.
When you make the decision to become a follower of Jesus Christ, you will never be the same. When you choose to become a Christian, you will still have problems, but they won't be as big as you thought they were.
Come join us for our fall parenting series on Wednesday evenings at 7:15 p.m. in the Chapel at Valley Forge Baptist. The theme is Restoring Love in the Blended Family.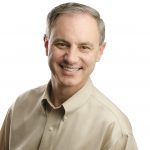 Scott Wendal is the founding and lead Pastor of Valley Forge Baptist in Collegeville, PA. He attained his Bachelor of Arts degree at Baptist Bible College in Springfield, Missouri, in 1981. After completing a three-year internship in Fairfax, Virginia, Pastor Wendal came to the Valley Forge area in July 1984 to begin Valley Forge Baptist. Pastor Wendal and his wife, Jodie, have five children.