Why Is Easter So Special?
Easter is special, but not because little girls get to wear new dresses and children get to go on Easter egg hunts. Easter is special because of the momentous event that occurred early on that Sunday morning a few days after the crucifixion of Jesus on the cross. He arose! This is the one event that separates Christianity from all the other world religions. Jesus Christ came back to life from the dead. His tomb is empty! All of the leaders of every world religion or cult have one thing in common: a dead body in a casket or tomb.  But the tomb of Jesus is empty, and it is not because of grave robbers. How did this happen? By the power of God! God displayed His mighty power over death itself on the first Easter Sunday.
"But if the Spirit of Him that raised up Jesus from the dead dwell in you, he that raised up Christ from the dead shall also quicken your mortal bodies by his Spirit that dwelleth in you." Romans 8:11
What Does Easter Mean to Me?
The same power that raised Jesus from the dead – God's Spirit – dwells inside every Christian. The apostle Paul relates this wonderful promise that if we put our faith and trust in Christ alone for the forgiveness of our sins and receive the free gift of eternal life, then we have the promise that one day we too shall be raised from the dead. God promises a resurrection and a perfect glorified body to all who truly become followers of Christ. Easter is special not just because of what happened to Jesus but also because of the promise that He made to His followers: "…because I live, ye shall live also."  John 14:19b.
We all suffer the consequences of living in a fallen world that is marred by sin. But God's love gives us something to look forward to: heaven, a glorified body, the presence of God, and complete separation from sin and all of its negative effects (pain, hurt, sorrow, disability, and death itself) (see Revelation 21:1–4).
On Easter Sunday, April 1, come and celebrate with us Easter: God's Power on Display. The service times are 9 a.m. and 10:30 a.m. We provide a nursery for the little ones and a special children's church for youngsters through 4th grade. We also provide interpreting for the deaf during the 10:30 a.m. service.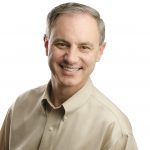 Scott Wendal is the founding and lead Pastor of Valley Forge Baptist in Collegeville, PA. He attained his Bachelor of Arts degree at Baptist Bible College in Springfield, Missouri, in 1981. After completing a three-year internship in Fairfax, Virginia, Pastor Wendal came to the Valley Forge area in July 1984 to begin Valley Forge Baptist. Pastor Wendal and his wife, Jodie, have five children.